Rotation and CALs
I have been down in the dumps and sick for a couple of weeks. I couldn't do anything crafty and have only been working on things for a few days now. But I had an idea that may actually work for me. Cross-stitchers usually work on a rotation schedule so that they can give each of their WIPs some attention. I thought since I have so many things in progress, it would be good to work on a set few at a time. Here is my current rotation.
In knitting:
I am working on the Manly sweater from the SnB Handbook. Here is a pic of what it should look like and a progress pic. I am doing it in all gray with a little black thrown in.
I am doing the Nature in Natural afghan from Lion Brand. I had gotten some Wool Ease chunky for a sweater but it wasn't working up nicely in the pattern I chose, so I am using it for this. I am using willow and walnut, I am not a natural kind of girl. Here is what it should look like and progress shots of the cables. Yes, cables. Gotta love em.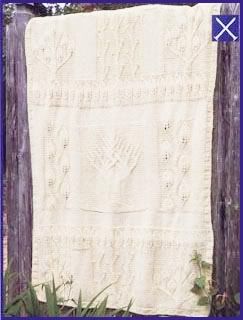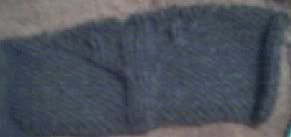 Then there was a patten I bought a long time ago. I just wanted to learn how to do the double knitting, but never thought I could. I am doing the Double Knitted afghan from Patternworks. It is so neat to be knitting continental with my left hand and purling with the throw method with my right. I have some Caron Simply Soft brights that I am using. It will be four different colors but it has only two so far. I twisted it so you can see both sides.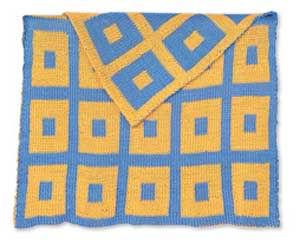 I have some 90% virgin wool, 10% angora rabbithair yarn that I was given. I had no idea what to do with it, and the other day I decided to start a Branching Out scarf.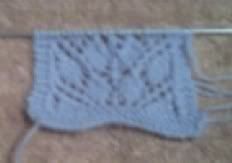 In crochet:
I have joined a CAL. The lovely LadyLinoleum is hosting it. It is the Vintage Chapeau Crochet Along. This is a patten out of a McCall's Needlework magazine from Fall-Winter 1963-64.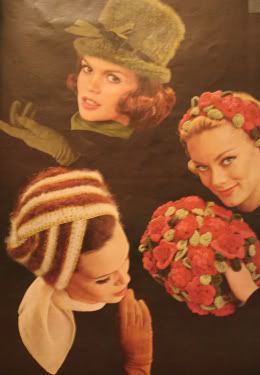 When I saw this picture, something inside me just screamed "You have got to make that muff." I was posessed, but I like it. I have never crocheted something in the round. It's weird, but going along smoothly.
In cross-stitch:
I am still working on the Tiger's eye. It looks pretty much the same as I have already shown, so I will wait for a progress pic.
I also have a sampler book of Teresa Wentzler that I am debating on what to start. Go take a look at it, you can click the links to see the projects in it. It is a toss up between the Fantasy and the Camelot sampler.
So I will try this for a month and see how it works for me. Who knows, this may make for some earlier finishes.