WIPs
Since it is a new year, I went through all my projects to see exactly what I had going at the moment.
My knit WIPs consist of:
~camo socks
~i-cord gloves
~mystery stole
~mystery shawl
~mystery shawl 2
~turtleneck shrug
~patchwork purse
~HP azkaban scarf
~ snowball's chance in hell arm warmers
~Rogue
~easy roll brim hat
~alien illusion scarf
~card trick scarf
~clapotis
~manly sweater
~nature in natural afghan
The last two on this list were the newest additons started in the last 2 weeks. The alien illusion and card trick scarf were from when I first learned to knit.
My crochet WIPs consist of:
~63 squares afghan
~granny square afghan
~granny square afghan (size 10 crocet thread)
I have a little over half of the 63 squares done. I started the granny square after finishing a huge one for my hubby. The one with crochet thread was when I wanted to make doilys but hadn't learned to read a pattern yet. So I just thought I would see how it would turn out. These are the continuous granny squares worked from the center out , not the ones you do individual squares with.
My cross-stitch WIPs consist of:
~Stairway to Heaven Lyrics (my idea using the Ultimate Cross-stitch Alphabet Book by Kooler Design Studio)
~the last supper (Jeanette Crews Design)
~butterfly expressions (Dimensions)
~eye of the tiger (Cross My Heart)
That's not too bad really. It could be worse. Since I haven't really talked about my cross-stitch that much, I thought this would be a good time.
I have been cross-stitching ever since I can remember. I love it and it is my first true craft love. There are so many designs I have seen that I want to do, and someday will do many of them. I have lots of design books and pattern leaflets. My aunt gave me all of her leaflets, floss and fabric. That gave me a good stash to add to. Here is just the floss I have so far. Including the floss chart I use to keep up with what colors I need.
And here are some progress pics of the ones I have started. Also I included pictures of what they should look like when finished.
Stairway to Heaven is my favorite song. I had this fabric colored almost like parchment and it gave me the idea to stitch the words on it like handwriting. This one must be framed when I am done.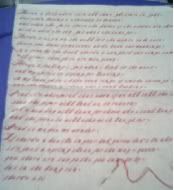 This one I started years ago and I really want to finish it someday. I got discouraged when I found some of my count was off and had to take some of it out. But I fixed that and worked on it a bit since then.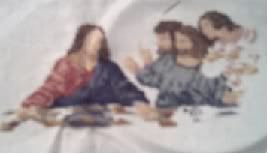 This was a gift. I worked away furiously on it until knitting took my attention from it.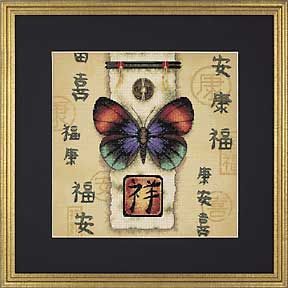 And this one I just fell in love with. I only bought the leaflet and it took a long time to find fabric just the right size. But the progress on it looks cool. This is one of the reflections in the eye.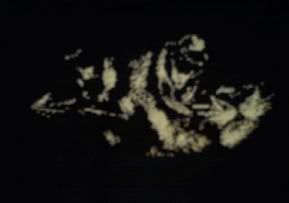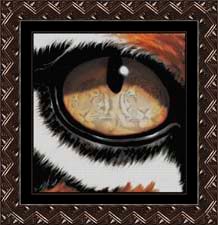 I don't usually make resolutions, but I hope to have some of these WIPs (knit, crochet, and cross-stitch) finished by next year.