Another Year
Well it is finally over. All the hustle and bustle. Good. Now we can get back to normal. Well as normal as you can get these days.

The kids had a great Christmas. Santa never lets them down. Here they all are after tearing into everything that morning.
I have been listening to Darth Vader breathe ever since.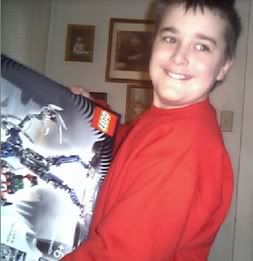 He wanted to build one a day. He had it all finished in a couple of hours.


She really is happy, she wasn't quite awake yet.

Not only does it talk and sing, you can record and listen to what you say too. Over and over and over....


I finally got to see Harry Potter! One of my sister-in-laws gave me movie passes for Christmas. It was such a great movie. If you haven't seen it, go now. It is so worth it. You get so much more out of the books when you get to see it on screen. It just makes both, movies and books, so much better and richer. If I wasn't reading the Chronicles of Narnia, I would start reading them all again. My mother&father-in-law got me that.
My hubby got me what I have been wanting for a long time. A hand-held Texas Hold-Em poker game. I will take any practice I can get. I want to be a professional poker player when I grow up. You think I could be the first person to knit at a tournament? We all have to have dreams don't we?
Hope everyone has a great New Year.