Ok, it's official
The lovely, talented, wise, etc., etc., (insert any other nice words you can think of here) Snow, sent me yarn so I can do my Rosy-Fingered Dawn Shawl! Thank you, thank you , thank you, 100 times thank you! It is so pretty, I just can't wait to start. The pinks look slightly orange in the picture so if you want to see the real colors, just go to Knit Picks and see their Palette colors.
I will now officially join the Knitting Olympics. Oh boy.
And I do have some progress to show. Here is my first I-cord glove finished. I have the other fingers done too so I can start the other one soon.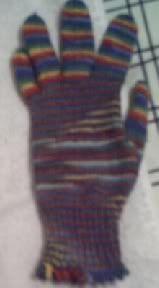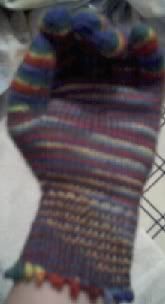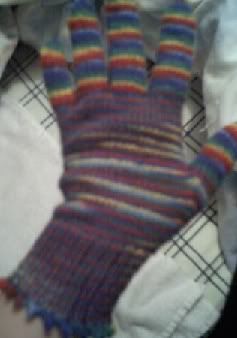 I don't have a picture because it wouldn't take well, but I also finsihed the main portion of my crocheted muff. When I can get a decent picture, or more progress with the roses, I will post about it again.
And here is some things just for fun. First we have a word cloud. I saw this on Snow's blog.
And then we have some Lego people. You can go here and customize your own. These are of me and hubby of course.