Bad, bad blogger
My posts seem few and far between lately. This summer has been very busy. This week alone we have had to get a new refridgerator, and the kids have started bible school. Today the people are delivering the new one. So most of my time today will be getting all the stuff out of the old one and be ready for the new one to arrive. Don't you just love time delivery windows? Any time between the two hours they give you. Fun, fun. And not to mention that the doors in this house are tiny, so it will be a very tight squeeze. And the time frame they give butts right up against the time I need to have them at VBS, so they may be late.
But not all of our busy time has been irritating. We went to see Over the Hedge. That's a funny movie! I like Bruce Willis and love all the crazy things he does. I'm a fan from way back when he was Moonlighting. And I own The Return of Bruno tape. But I think I liked Hudson Hawk the best. When he sings Swinging on a Star with Danny Aiello. That's hillarious.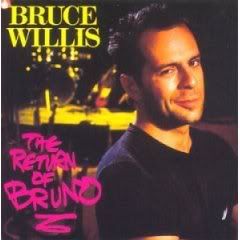 The kids also got their pictures made in one of those little booths. My boys' says Little Devils, and the girls' says 90% Angel. Cute. Very funny faces were made.
And there has finally been some knitting. Not much, but some is better than none. I made a little more progress on my no-sew miter.
Doesn't look much different than before. I would have already had it done, but I found a mistake in the 3rd square and had to ribbit, ribbit.
But there are so few ends left to weave in, it's well worth it.
And I did start a sock. I wanted more progress before showing, but I might as well.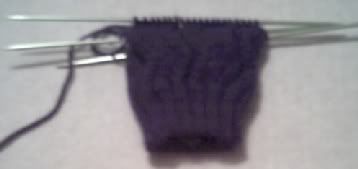 It is a really dreary day, so the lace parts don't show through well. Maybe I can catch a sunny day soon.
Well I gotta go try to get everything ready for delivery. Did I mention it was fun, fun, fun around here?