Reading Blogs = Trouble
It seems everytime I sit down to read my daily blog fill, I always end up getting in trouble. I usually see something that calls out to me to make. Yesterday was no different. I read the Yarn Harlot's post titled, "Longest Ever". Someone had made an afghan of tessellating fish. I was immediately hooked. If you scroll through the comments you will find an address for a blog that has their own version of this pattern. So naturally I had to make some.
Here are the first four. They look like an innocent little school of fish, don't they?
This is how they will be attached together.
I haven't decided how many colors I will use yet. This will probably be a fill-in project. Something to do as a break from a big project. I really ought to know better than let myself get into these messes. But, I just can't help it.
Is is fitting that I was eating this while working on the little fishes? I guess you could say I was "hooked". Heh. Or, maybe not.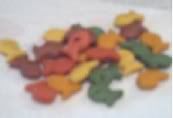 And as a first for this blog, I have actual cat pictures. These aren't my cats, but they live here too. Usually they fight over which one gets to sit in the bathroom window. Yesterday, they felt like sharing. I thought it was funny and that is the only reason I am posting these.
Susie and Sadie. And this is the view from the outside.