Stash Re-group
Yesterday I got my knit tool box set up. I can't believe how much crap I had stuffed into one space. Here is the before picture.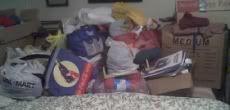 It's shameful, I know. But this is the only place I have at the moment for all my yarn and things. Where you see the box marked Medium, it is sitting on a cedar chest. And all those bags and boxes in front of the chest are stacked up on the floor next to the bed. So you can imagine how much is stuffed down there.

I went through everything, little by little. All of my WIPs were in plastic bags. I sorted those into canvas bags, so they are now nice and neat. I even went so far as to write down what projects were in what bags. They are different colors. I also wrote down what needles were in the bags so I could keep track of them. Could that be any more anal?

Here is the tool box before I put stuff in it.




It has a cool sticker that came with it. It says: "Beware of Owner. Don't touch my tools!" That's just perfect, right?

Here is the storage for all my WIPs now. There is also my extra Rosy shawl yarn and some crochet thread. Some of my finished pieces and swatches are in there too.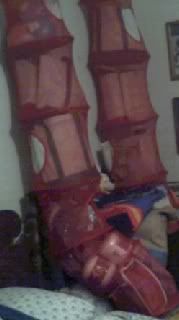 Here is my main stash of yarn. The box has just odds and ends. Balls of yarn, partial skeins, and no-label yarn.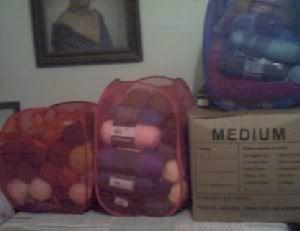 Here are all my cone yarns.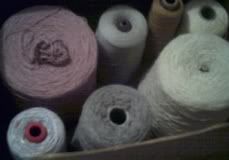 Here is the top tray of the box. It holds my needles, and notions. All nice and neat. Again it seems kind of anal.




The first drawer has my nice yarns. Wool, alpaca, and lace weight.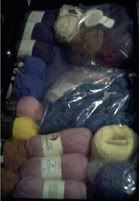 The second drawer has my sock yarn, some baby yarn, cotton, and some purples.




And the bottom tray has all my books, magazines and patterns.




All nice and neat. Ready for me to dive right in and be able to find what I want.




This may have been after everyone else did, but now I have officially "Flashed my Stash".