For the man who has everything
I finished my hubby's present. It is a little bit of a novelty, but he might get a kick out of it. I think it is safe to post it cause I am sure he will get it before he sees this. I introduce to you:
The Cig & Lighter Holster
It has a place for the cigs, a place for the lighter (Zippo of course), and it even has a belt loop for his convenience. The skull on the front was from a design in the SnB Handbook.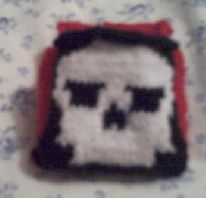 I lined the inside of the pockets for stability.
And here is a look at the back.
Is that just cute or what? Well all I can say is if he doesn't like it, I will keep it. I don't smoke, but I'd find a use for it. I didn't do all that work for nothing. LOL.
DISCLAIMER:

In no way is this meant to encourage smoking.