I've got PICS!
I finally got my pictures saved to a file type I could upload. Yeah. Now I have proof I am actually doing something! LOL! But if you will excuse the quality, I don't have a good camera.

First of course we have to have pictures of the socks. I have obsessed about it enough. I have the one completed and the one in progress.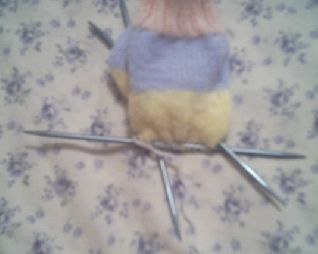 Now for the little purse I did while trying not to go crazy when I couldn't figure out that part of the sock pattern.


And here is a link to my 63 squares pictures. I thought that would be better than putting them all here. But I WAS tempted to.
http://photobucket.com/albums/y249/mickyroop/63%20squares%20afghan/

And last but not least, one of my kids at Easter, just cause I can.