And then there were 2
Well I was feeling bad because I was neglecting the socks while working on my stole. So I sat down and finished them today. So now I have not one, but two pippi kneestockings! Yeah!
And they do actually fit.
Although I said I'd never put my picture on here. Hehehehehe!
So now I can do the happy dance and feel the joy of another FO!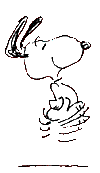 You know right now you are hearing the Charlie Brown music go through your head! Who's gonna be humming that all day? Heehee!