Spring is upon us
I was reading through the new Interweave Knits and found a picture of knitted and crocheted food. There were some crocheted deviled eggs. And I wanted to make one. There was no pattern and I didn't find any searching online. So I just decided to try and do one on my own. This is what I came up with. Here is the side view.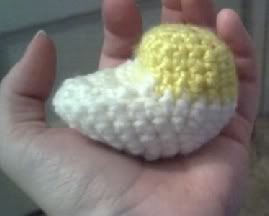 Here is the top view. I don't know if you can really see it, but there is a sprinkling of "paprika" on top.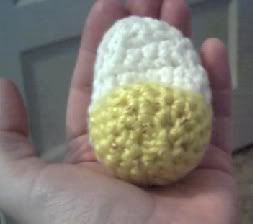 I am obviously in a "springy" mood today. Either that or I just want some deviled eggs.
I knitted some on the Hermione Hat last night. I am finally starting with the cables. When I get a few more rows done, I will show you the progress. Right now all the detail you can see is the ribbed brim.
While I was knitting, I was watching Doctor Who. They made a new series and it airs on the SciFi channel on Friday nights. It was pretty good. Made me want to see the original though. Aw, nostalgia. It's great sometimes.