An apple a day...
Sunday we went to my nephew's bitrthday party. We have the same birthday. And this year we got the same present. An iPod Shuffle. But seeing as how it's all plain and white, I had to do something to jazz it up a bit. So I made a "sock" for it.
I left an

opening at the bottom for the headphone cord. I also made a little chain to tie it at the top. It came with it's own lanyard so I didn't have to do a really long i-cord. I used lace-weight merino with size 2US double points. So making an i-cord at that gauge would have taken forever.
It's so cute and tiny. And this will also help me from banging it up too bad.
And as I promised, here are a couple pics of my mobius. The first shows how it looks like it is just done in the round.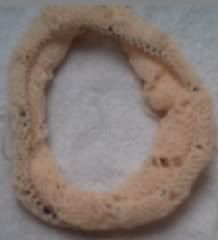 But stretched out you can see how it is being worked, and the lace pattern.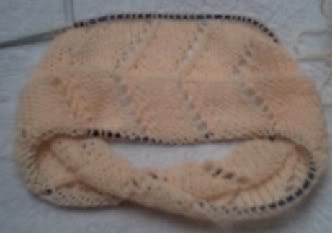 Only ten rows left and it will be done. Woohoo! If the weather stays mild like this much longer, there is no telling what else I can work on. I so missed knitting all the time.