Busy Summer days
Wow it's been quite a bit since I posted. I guess the heat is getting to me. I have hardly touched any knitting this past week. It's just been too hot and sticky around here. Plus I haven't been home that much anyway.

We were out and about almost every day last week. On one of our outings Not-the-Momma took us out to lunch. He was going to go to a movie with us too, but he wasn't feeling very well. So I took the kids to the mall. We walked around a bit and window shopped. They saw all kinds of stuff and I saw a Mah Jong game that I would love to get my hands on. Then we saw Cars. They loved it. It was really funny. Afterwards we stopped in at A.C. Moore. I just browsed the yarn sections. I did find a couple of posters. One was a Vincent van Gogh "Starry Night", and the other an Alice in Wonderland. And we stopped in another little shop and they found some toys. So it was a pretty good day for everyone.
For those of you who followed the link from my last post, I actually started one.
These things are going to be huge. I didn't figure they would be this big, but I guess they will hold more. They are worked flat until you get to the foot and then joined in the round.
And for those of you who like to see the innards of knitted things, here's the back.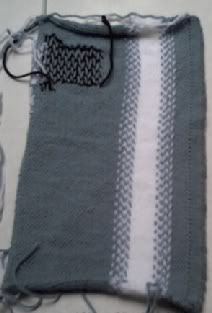 These will be lined so if it gets a little sloppy, the mistakes will be hidden. I was even going around the house humming Christmas carols. It's safe to say the things I knit tend to go to my head a little.