To knit, or not to knit
Well I am a little down in the dumps today. Don't know why. Just one of those things that happens for no reason at all. Other than to aggrevate me to no end of course. But enough whine.

I really want to join the
Knitting Olympics
hosted by the
YarnHarlot
. I even have the thing I so want to knit for it. In fact I am feeling a little obsessive about it. I have the pattern, I have for a while now. It is the
Rosy-Fingered Dawn
shawl.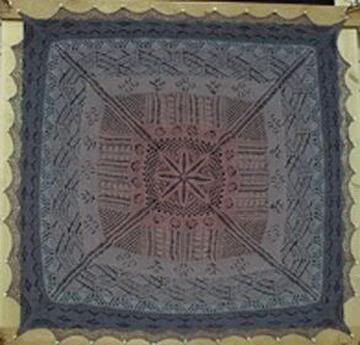 I know, it's lace and it's huge. But the Olympics are made to strive for your best right? I don't really expect to finish it if I join. I just want to work on it. I decided to do it in a fingering weight instead of laceweight. I got some advice from Snow who said the yarn with the kit is really more like a fingering weight, so I found some I like. I decided on
Palette
from Knit Picks. I want to do it in these colors: Petal, Blush, Lilac, Hyacinth, Pool, and Sky. I figured if I get 2 skeins of each that would be plenty. And that way it would only be $21.48. Not bad to do a whole shawl. Now all I have to do to really commit is to buy it. So I have a little time before I need to do that, so we will see.

I have already selected my buttons if I do. I got this one from JenLa's blog. I think that says it all.





And I found this one on the YarnHarlot's.





And just for hanging in there and reading all that drivel, here is something fun for you. I made South Park characters for me and hubby. Don't we make a cute couple?